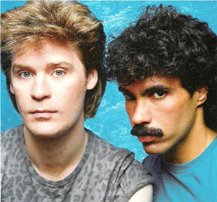 There are some secrets that you just can't hide. I am contributing to a blog that is about music so I can't hide a simple fact: I enjoy Hall and Oates. Actually, enjoy isn't a strong enough verb. I love listening to Hall and Oates.
You can spare me the teasing and mock outrage. I know that Hall and Oates always be an 80's punchline and will never get the serious musical respect they deserve. And part of that is the goofy looks (aside to Blugold Matt: there are two teachers from our old high school that have the looks to form a H&O tribute band -- can you guess who I am thinking of?) and they have more than their fair share of cheesy lyrics.
But I can't resist the opening riff to "You Make My Dreams." I realize it is nothing more than a keyboard riff, but I cannot help myself from smiling when I hear it. Their sound is a distinctly 80s sound, with the synthesizers taking center stage. They have enjoyed a small renaissance as their music has been sampled extensively. I love their music videos, if only because they specialize in the bizarre. I love every bit of H&O in spite of myself. It is my guilty pleasure and the first step toward self-actualization of this desire is to simply admit. World, I am a Hall & Oates fan.
P.S. The spoof music video at the bottom of this post is simply magnifico.